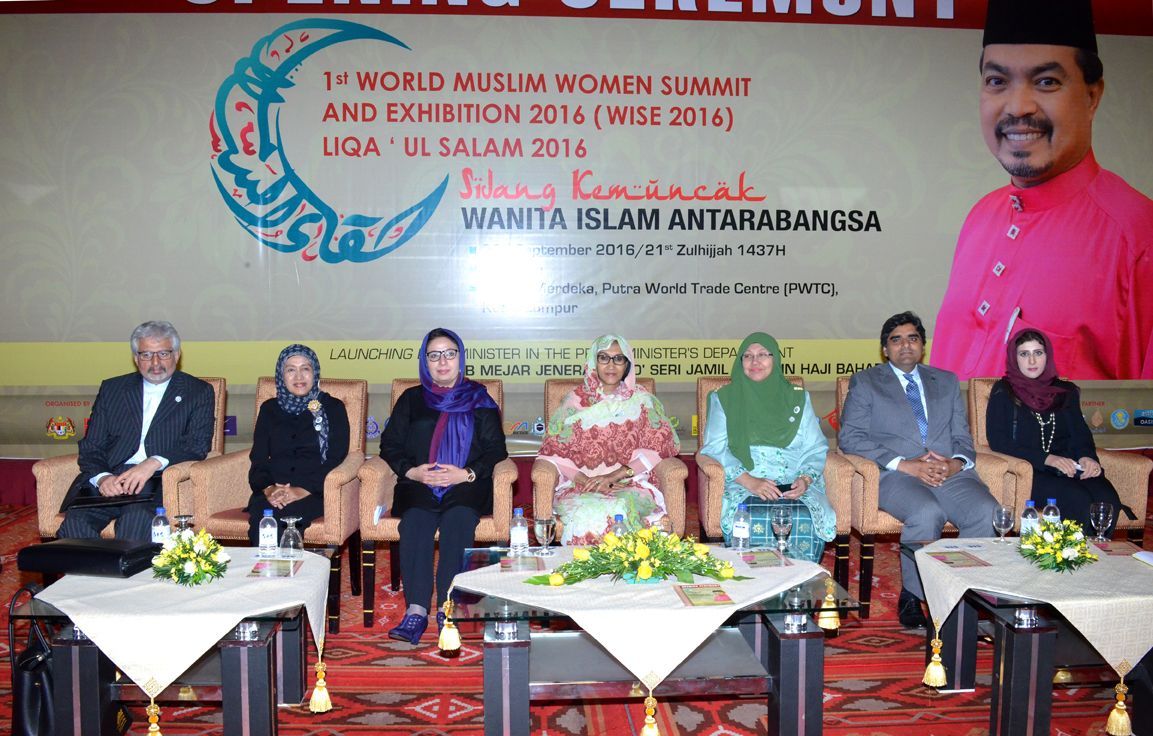 Independent Permanent Human Rights Commission (IPHRC) delegation led by its Vice Chairperson, Ambassador Ilham Ibrahim Ahmed, participated in the 1st WISE 2016 held in Kuala Lumpur from 23-25, September, 2016. Besides, keynote address by the leader of the delegation, the Commission Members, Dr. Raihanah Binti Abdullah, Amb. Mostafa Alaei, Dr. Siti Ruhaini and Mrs. Asila Wardak made thematic presentations on relevant topics.
The Summit was jointly organized by the Government of Malaysia, Organization of Islamic Cooperation (OIC), World Islamic Forum, Turkısh Asian Centre for Strategic Studies and the International Islamic University Malaysia. The program of the Summit included an 'International Conference on Women and Peace Building', official launch of 'OIC Malaysia Scholarship' and Cultural Exhibition. A large number of distinguished academicians, experts, civil society representatives and governmental and non-governmental dignitaries attended the Summit.
Amb. Ilham Ahmed, in her keynote address, while welcoming the initiative, hoped that the successful outcome of the Summit will be instrumental in steering the destiny and direction of educated and enlightened Muslim Women towards nation building and developing peaceful and progressive societies where women would be defined by their strengths and effective contribution. She called upon the OIC Member States to (a) expedite on-going review of various institutional frameworks and legislations pertaining to women, family wellbeing and development with a view to improve their enforceability and create synergies with gender sensitive international development mechanisms; (b) foster enabling environment through advocacy and inter-sectoral coordination and governance; and (c) integrate women role and their enterprise in the affairs of the State including policy and decision making, providing equal access to opportunities.
She further described the acheivements of the Commission, within a short span of its establishment, and provided over view of the evolving and expanding scope and magnitude of the Commission's activities concerning promotion and protection of women's rights.
Dr. Raihanah in her presentation on " What do Malaysian Muslim Women think of peace: A Preliminary Study" shared results of her academic research to substantiate that durable peace in a society cannot be maintained without empowering women as agents of change to implement peace building and peace promoting strategies across every level of society. While commenting that peace is not only associated with conflict but is also related to peace in mind, soul, behavior, and thought, she highlighted the role of women as mothers to enlighten minds of future generation and nurture feelings of tolerance and mutual respect for sustainable peace.
Amb Alaei in his presentation on "Modern Muslim Women: Aishah vs Cinderella", while objecting to the misplaced comparison, both in context and composition, between a real figure and a fictional charater, identified the differences in the understanding of concept of Western and Islamic 'modernism' based on divergent historical evolution and philosophical interpretations. He further suggested that Muslim Women should endeavor to (a) emancipate from pure individualistic, self centred and egoistic vision of modern life (b) raise awareness and voice against harmful traditonal and cultural practices which have no relevance to Islam (c) discourage irresponsible liberalism in all aspects of life and promote the paradigm of rights within the context of corresponding responsibilties (d) build capacities and skills to comprehend and appropriately respond to the contemporary challenges in the field of education, science and technology and socioeconomic development.
Dr. Siti Ruhaini in her presentation on "Hitting the Glass Ceiling of Women Leadership"highlighted presence of 'gender gaps' in women representation at public, political and managerial levels which impede their personal and professional advancement. She recommended public advocacy for progressive islamic thoughts for harmonious gender relations based on complimentarity rather than competition. While sharing the IPHRC experience of nurturing women leadership within, she urged to institutionalisation of gender sensitive political systems allowing equal access of opportunity and participation.
Mrs. Asila Wardak, while presenting "Women's Role in Peace Building", highlighted that the international peace and security architecture has long ignored women as they are are not directly involved in wars and conflicts as combatants. Though silent and invisible actors, yet women remain one of the most affected and vulnerable segments. The change in women's traditional role in the face of post conflict challenges of rehabilitation and raising and sustaining of families warrant a more inclusive political framework to advance participation and build women capacities to absorb shocks.
In the concluding session, 'WISE Kuala Lumpur Declaration' was adopted which highlighted the need to mainstream Muslim women's role for sustained engagement and empowerment towards peace building, decision making and societal development and transformation.
The Summit provided an excellent opportunity to showcase the Commission's ongoing projects in the area of human rights and also helped to develop vital network and linkages with the academic research institutions and national human rights and governmental bodies for potential collaboration in future. The 2nd edition of WISE Summit will be held in Istanbul in 2017.